Training and Development
Assisting employees in realizing their full potential is part of the Firm's Core Values. We are recognized by our employees and in the business community, as a learning leader that encourages, supports and rewards employees for their contribution to the learning of others.
In support of these objectives, we are committed to providing learning opportunities through formal training, professional development programs, online learning resources, and challenging work assignments. We strongly encourage our employees to achieve their professional designation or continue education in their field of expertise. We want our employees to progress as professionals and we support them every step of the way. We financially reimburse employees for the successful completion of approved courses and exams.
Assurance and Tax employees also participate in our formal coaching program where a more experienced team member will provide regular guidance and support to the employee as they develop on their individual career path.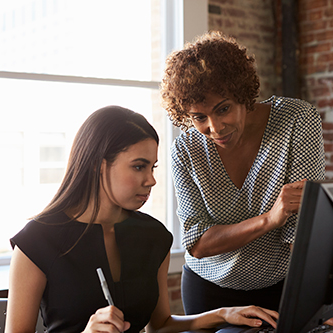 Open Door Policy
We believe that open communication is crucial to a great corporate culture. Taylor Leibow is proud to have some of the best professionals in the industry. Partners, Directors and Managers play an integral role in the development of our staff and are always available to answer any questions that you might have, whether you are a co-op student or senior employee.
Promotion From Within
As a training firm, we invest in our employees and their future with the organization. Everyone at Taylor Leibow has an equal opportunity to succeed and how quickly you are able to advance is dependent on your ability to learn and apply these skills.
Professional Work Environment
Taylor Leibow's Core Values are embedded into the culture of our firm. This has created a work environment of integrity, trust, honesty, and mutual respect. You will develop strong working relationships with your colleagues where you will work as a team and support one another.
Taylor Leibow also has wonderful facilities that are used for a variety of functions. We have excellent board rooms for meetings and training purposes and a 1950's inspired diner/lunchroom where Taylor Leibow employees gather and social celebrations take place.
Work-Life Balance
We understand that your position within the firm is not likely your only role in life. As a Taylor Leibow employee, you will have a great deal of opportunity to focus on other parts of your life. We have created a flex-time/hybrid work policy to support employees in maintaining work-life balance and managing their personal schedules.
In any accounting firm, you will experience extended hours in tax season.  At Taylor Leibow we ensure that the increased workload is realistic and not overwhelming. Also, Taylor Leibow is flexible in how you work these extra hours. In the summer when the workload is much lighter, Assurance and Tax employees experience a reduced schedule. Full-time employees also receive a minimum of three weeks of paid vacation per year and the office is generally closed between Christmas and New Year's allowing for an extended holiday. We also typically close the office early on the Friday before long weekends, outside of tax season.
Other Benefits
Some additional benefits provided by the firm include our:
Maternity benefit top-up program

Employee referral payment program

Health and wellness reimbursement program
Community Involvement Committee
Taylor Leibow has a Community Involvement Committee (The CIC) to encourage participation in our community. The committee is composed of Taylor Leibow team members who investigate and coordinate opportunities for employees of the Firm to give back to the local community through volunteerism.
Past events include:
Sorting and packaging food and hygiene items for Essential Aid

Gift wrapping for City Kidz

Taylor Leibow also holds monthly Denim Days to raise funds for a new charity each month. Most charities supported are local to the Hamilton community.

Outdoor park clean ups for Field and Steam Rescue Team
Active Social Scene
Taylor Leibow has an active social committee that organizes a number of events throughout the year. These events include a summer social gathering (golfing, Niagara River Jet Boating), Movie Days, an End of Tax Season Party, a Fall Family Event, a Pre-Tax Season Social, and an Annual Holiday Party.